How much is that doggy in the window? The truth is, there's a lot more to consider than the price you pay the breeder. From beds to food, chipping to vaccinations, here's a complete rundown of the costs involved with owning a dog. First-timers beware — it's a bit of an eye-opener.
In a hurry? Here's what you'll find in this article:
The up-front costs
For many prospective new dog owners, the payment you make to the dog breeder is the only major cost with dog ownership. And while it's true that this will likely be the biggest one-off payment you make in relation to your dog, it's certainly not the only up-front cost.
It's difficult to say how much you will pay for the new addition to your family as it depends on many factors. Adoption fees from rescue centres are usually around €150 while private sellers and breeders will charge according to the breed and pedigree of the puppy.
Microchipping
It's now a legal requirement to microchip a dog before it reaches 12 weeks or when it leaves its place of birth (whichever comes first).
If you buy your dog from a breeder, the chances are they will look after microchipping so you don't need to worry about it. If not, then this will cost from €20 to €40 at your local vet.
Learn more in our post about microchipping your dog.
Vaccinations
A breeder may take a puppy to the vet for its initial vaccinations. If this is the case, then you need to make sure that you get a certificate of vaccination so your vet knows when your puppy is due its next shot.
Vaccinations will cost from €75 to €100 for the entire course. You may need to pay an additional fee if the vet feels that your puppy is at risk of further complications such as kennel cough.
Dog licence
All dogs in Ireland must have a licence. These cost €20 per year or €140 for the lifetime of the dog. There are 3 types of dog licenses
Individual dog licence – Covers 1 dog for a period of 12 months. This is available from your local An Post office. Currently this costs €20 per year.
Lifetime of the dog licence – Covers 1 dog for the lifetime of a dog. This is available your local An Post office. Currently this costs €140 per dog.
General dog licence – Covers multiple dogs, targeted for dog kennels and breeders with multiple dogs. This is available from your local authority, i.e. county or city council. Currently this costs €400 per year.
These rules and regulations for dog licenses fall under the Control of Dogs Act 1986. This was updated in 1992, and since then all dog owners in Ireland are required to have a valid dog licence. For licenses from An Post you can also avail of their online service https://www.licences.ie/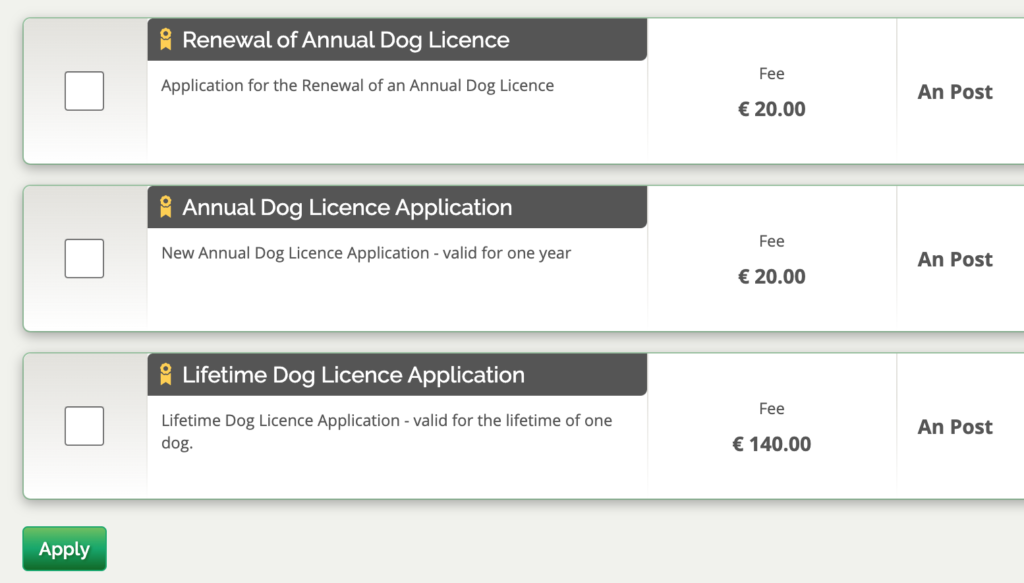 Note: a dog license is separate from microchipping your dog.
Bed/crate costs
The first week with a puppy is the most crucial and the one thing you'll need more than anything else (besides food, of course) is a good solid crate/sleeping area. Their own dedicated safe space for sleeping and relaxing, and timeouts is important to establish.
Don't think you can survive without one — you won't.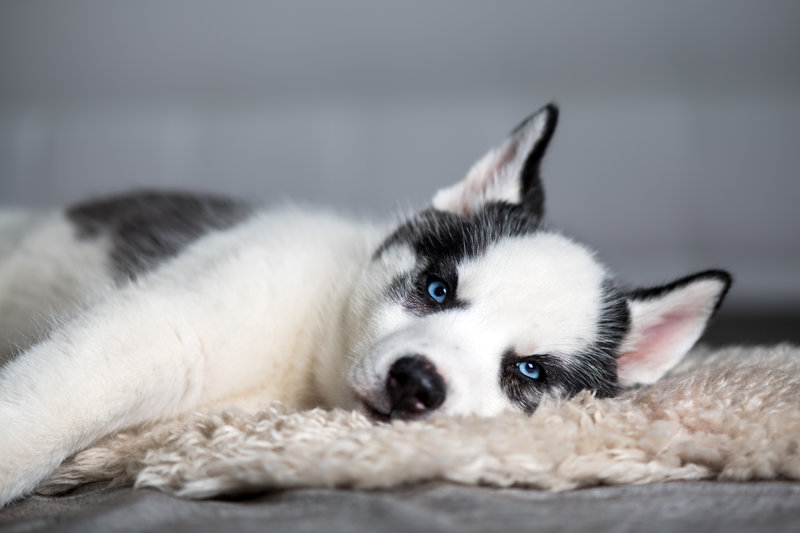 Crates can vary a great deal in price. You can get your pup a budget-saving cheap crate that costs less than €30 but unless you're planning to change the crate as your pup grows, we recommend investing in something a little more robust. And yes, that means it's more expensive. Expect to pay €100+ for a good crate.
For beds, again, get one that the puppy won't quickly outgrow, one that can hold some of his toys along with enough room to stretch out is idea.
Lead/collar/toys cost
Again, the prices for collars, leads, and toys can vary a great deal. Although cheap (and safe) toys might be okay, we wouldn't recommend scrimping on the collar and lead. Expect to pay anywhere from €20 to €100 to get the right collar, lead, and a bunch of toys.
Training costs
While not really an essential cost but one that might be worth considering especially when it comes to toilet training and nipping. An investment in dog training, while your dog is still young, will pay off in the long term. Learning basic commands like, sit, stay, come, heal, place (to go to their bed) and even more advanced commands help foster a bond between you (it's master) and the dog. Having a well behaved dog around kids or busy parks means you don't have to worry about them acting out of control.
We're not even going to give you a ballpark here because this is really down to the type of training you opt for and how many sessions your dog requires.
The ongoing costs
We hate According to the ISPCA, 30 dogs a day are abandoned here in Ireland. And one of the major factors resulting in abandonment is the unexpected cost of homing a dog. It's an awful statistic, but we mention it because we feel it's incredibly important to make sure that you really are sure that you can afford to bring into your home.
So let's take a look at those ongoing costs.
Food
There's no getting away from it — your new dog needs its own food. Scraps from the table won't cut it and could potentially cause health problems for your dog later down the line.
The cost of feeding your dog will vary a great deal depending on its size and the diet that you decide on. However, generally speaking, feeding a dog can cost anywhere from €250 to €750 per year.
That is a rough estimate though. If you insist on feeding your dog treats and choice cuts of meat, then you will spend a lot more. You can even try to make some of your own dog treats. Buying dog food in bulk is advised to save on costs, just remember to store it in an airtight container to make sure that moisture doesn't get at it.
Visits to the vet
Your dog will need to have a regular check up at the vet once a year. This will cost you around €50, plus any additional costs for medicines or necessary treatment. Pet insurance is becoming more and more popular in Ireland. Check with your vet for what offers they have, but also do your own research, some policies have restrictions as your dog gets older or breed specific restrictions.
It's extremely difficult to predict this cost, we recommend setting aside from €200 to €300 for your dog's health costs each year.
Pet insurance
If you can afford it, pet insurance is a great idea. It will cost from €150 to €400+ per year depending on the breed and pedigree of your dog. It's not an essential cost, but it's something that we highly recommend. If an unexpected medical issue arises, it's good to have the peace of mind that everything is okay from a financial perspective. Not all insurances are the same, remember to read the fine print with respect to 
What's covered and what's not covered (accidents, hereditary conditions, etc.)
If there is a lead time before something is covered, i.e. 30 – 90 day blocks
Cover for long term illness (e.g. dog diabetes which might require a long term food plan)
If their are any requirements around timeframes to address conditions.
Annual limit on costs and / or any contributions to costs
It's also worth noting that some policies don't cover older dogs. More information can be seen here about pet insurance.
Grooming
Yes, your dog needs some pampering too and unless you have some experience or a lot of patience, you'll want to get a professional groomer on the job.
Grooming costs depend on the size and breed of your dog. It ranges from €25 right up to €70+.
How often your dog needs grooming also depends on the breed and what kind of activity you and your dog get up to. A dog that spends a lot of time rolling around in fields may need more visits to the groomer than one who spends most of their time on the sofa.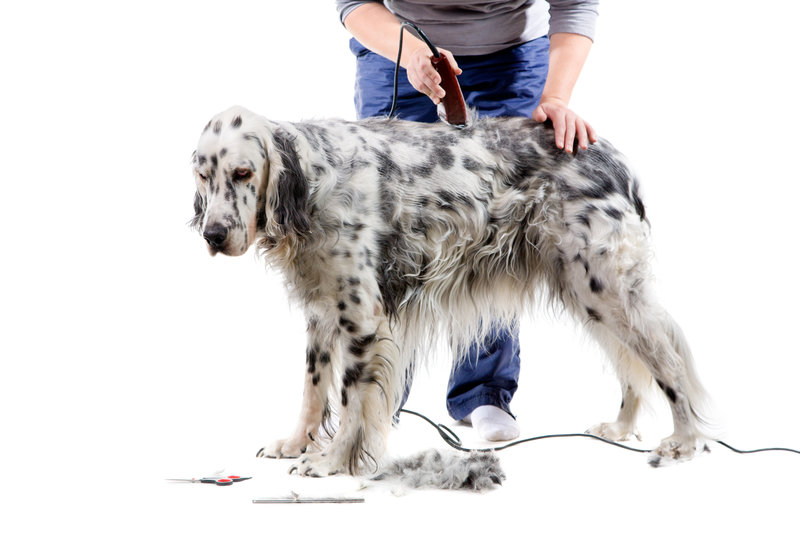 Typical groomers can remove mattes, cut hair around the eyes and other places, clean glands, shampoo and dry your dog, trim their nails. Doing this as a once a year treat before the summer isn't a bad idea, especially for longer haired dogs. Some groomers have mobile vans that will come to your home for a less stress experience. Another new trend around the country are self-service dog wash bars, like Spaw in Cork.
Boarding and doggy daycare
We'd all love to take our dogs with us everywhere we go but sadly that's not always possible. Whether you need your dog taken care of while you're at work or while you're away on holiday, it's an expense that must be added to the list.
Doggy daycare will cost from €10 to €25 per day depending on the area you live in and the size of your dog. Some of these will give you the option to bring your own food and dog bed for additional comfort so don't forget to ask
Boarding your dog while away on holiday will cost much the same as daycare. However, you may be able to get better rates for long-term stays.
Dog walking
Dog walking services are getting more and more popular, and again prices range between Dublin / Cork to other places around the country. You should budget €20 – €25 for an hour walk, and €10 – €20 for half an hour walks. Many dog walkers charge differently if you do daily walks versus one-off engagements, also the case that you want your dog walked on its own may be more expensive. If you are at work all day a walker might be more of a necessity to give the dog a chance to use the bathroom and stretch their paws.
Dog ownership costs
And that is pretty much it! As we mentioned earlier, there are more than 10,000 dogs abandoned each year in Ireland and most of that is due to new owners not fully understanding the responsibilities of dog ownership. So if you really want to add a furry addition to your family, you need to be absolutely certain that it is something you can afford to do. Check your budget before you open your home to a new pet.