"What breeds of dogs are banned in Ireland ?" is a support question that comes up quite often. With reports of increased frequency of dog attacks, biting incidents and even fatal cases, it's something on the minds of people about dangerous dogs, should they be muzzled and what breeds are on this list. This article is not about how effective these banned breedings lists are, the Federation of Veterinarians of Europe's has a report that may shed some light into this topic here.
There are certain extra rules that owners of dogs that are on the restricted list need to adhered to that we've listed here.
Rules for restricted breeds in Ireland
This law is the The Control of Dogs Regulations 1998 (S.I. No. 442 of 1998). The rules state (but we encourage all dog owners to read the statue themselves):
These dogs listed need to be muzzled in public.
These dogs listed must be on a short, less than 2 meters (6.5 feet), lead. The leash must be 'sufficiently strong' or it needs to be a chain.
Dogs must wear a collar at all times with the owners information on it. This information should include owners name & address.
These dogs can only be led by people over the age of 16
Certain exemptions exists. See the exemptions list below.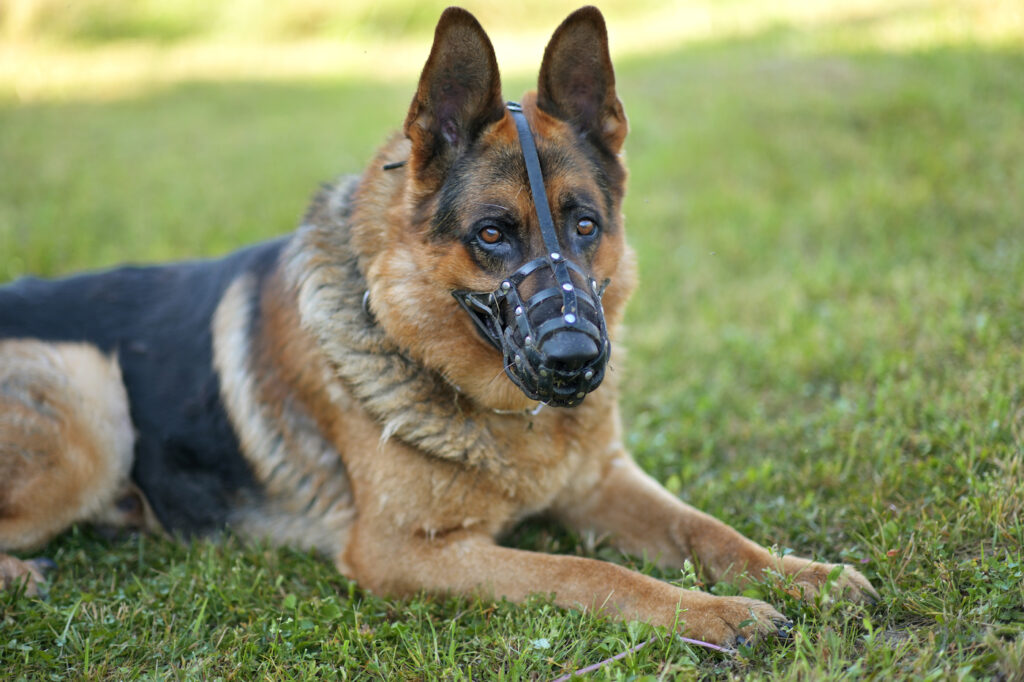 Restricted dog breeds in Ireland
American Pit Bull Terrier
Staffordshire Bull Terrier
Bull Mastiff
German Shepherd (Alsatian)
Japanese Tosa
Ban dog – a so called "ban-dog" is a cross or mixture of any of the above breeds mentioned or any strain of the above dogs listed.
Breeds under consideration of being restricted
As of December 2022 the Presa Canario breed is now under consideration be being added to this list.
Banned Breeds in Northern Ireland
Northern Ireland has different rules, and these are actually banned, as opposed to in the Republic of Ireland being restricted. There are four breeds of dogs that are banned in Northern Ireland:
Pit Bull terrier
Japanese Tosa, which is known in Japan as being bred a fighting dog. It is quite a rare breed.
Dogo Argentino
Fila Brasileiro, or Brazilian Mastiff
There are different rules about keeping a banned dog in Northern Ireland, these include
The dog has to be neutered
You have to hold an insurance policy for the dog
Dog has to be leashed and muzzled when in public.
When not in public it has to be housed in a secure location
Dog is available to the council's dog warden to be inspected
You have to inform the council if you move or the dog dies
Source : https://www.nidirect.gov.uk/articles/banned-breeds-dogs-northern-ireland
Are Pitbulls banned / restricted?
Often we get asked about Pitbull breeds, and if they are banned / restricted. The confusion comes from the fact that Pitbulls are not one particular breed, but generally refer to one of the following 5 breeds, we have marked it below if they are on the official restricted list.
| | | |
| --- | --- | --- |
| ID | Breed | Restricted |
| 1 | American Bully / Pocket Bully | Yes |
| 2 | American Pit Bull Terrier | Yes |
| 3 | American Staffordshire Terrier | Yes |
| 4 | Staffordshire Bull Terrier | Yes |
| 5 | American Bulldog | No |
"Pitbull" type dogs list
Are American Bullys / Pocket Bullys banned / restricted?
A Pocket Bully or American Bully is a hybrid dog that is bred from an American Pit Bull Terrier and a Patterdale Terrier. As the American Pit Bull Terrier is on the restricted dogs list, and a Pocket Bully is a mix of this breed, it in turn, it would be classed as a "Ban Dog" and would be in-turn on the restricted list.
Other banned dogs
Around the country, local housing authorities or private apartments buildings may ban or limit certain dogs being kept. Some apartments limit dogs based on weight, or number of dogs per property. Similar rules and guidelines may exist for breeding dogs in council housing or other properties. Before getting a dog, double check your lease agreement to make sure your landlord allows one, it can save a lot of hassle and heartache down the road.
In 2007 Dublin City council banned the following breeds:
American Pit Bull Terrier
Bull Mastiff
Doberman Pinscher
English Bull Terrier
German Shepherd (Alsatian)
Japanese Akita
Japanese Tosa
Rhodesian Ridgeback
Rottweiler
Staffordshire Bull Terrier
Source https://councilmeetings.dublincity.ie/mgConvert2PDF.aspx?ID=23736 These dogs are not allowed to be kept on the property or even enter the housing estate.
Similar breeds like American Akitas, while are not on the list, are also likely to be restricted. American Akitas are larger than their Japanese counterparts, and hence are likely to fall into the category. Some breeds have similar names, like the Japanese Akita can also be called an Akita Inu and would most likely still fall in the restricted category. When in doubt you can ask at your local Garda station about your breed or your vet for guidance.
Exceptions & exemptions to this act
Some exceptions exist to The Control of Dogs Regulations, and are outlined in the law. Most of these exceptions pertain to law enforcement, border protection or other essential services. The exceptions to these rules include:
Dogs kept by Garda Síochana / the Defence Forces,
Dogs kept by the Dublin Port / Docks Board Harbour Police / any Airport
Police / Fire Service at a State Airport.
Dogs kept by the Central Fisheries Board or a Regional Fisheries Board,
Dogs kept by the Customs and Excise service of the Revenue Commissioners,
Dogs properly used in the search and rescue of a missing person.
Controversial bans
One exception that we feel is missing is to cover Guide Dogs, GSD or German Shepherd dogs are often trained to be guide dogs for giving assistance to blind and visually impaired people. In 2019 Irish Guide Dogs for the Blind submitted their request for consideration of this fact [source]. To date this issue has not been addressed formally.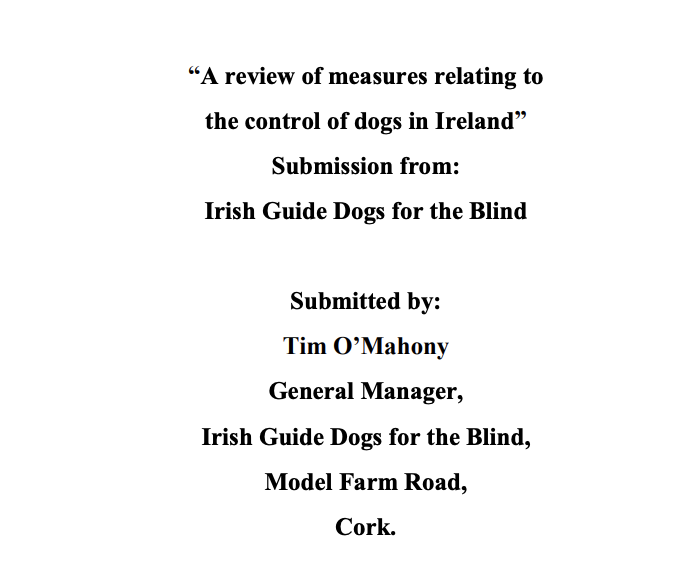 Banned Breeds in England, Wales & Scotland
Pitbull Terriers were banned in the England under the Dangerous Dogs Act 1991. The act was introduced in response to a spate of incidents involving aggressive dogs, with the aim of ensuring public safety. Alongside Pitbull Terriers, the act specifically prohibits the ownership of three other breeds:
the Japanese Tosa,
Dogo Argentino,
Fila Brasileiro.
The legislation makes it illegal to own, sell, breed, give away, or abandon dogs of these breeds without specific exemption from a court. The act also includes measures that apply to any dog that behaves in a manner deemed dangerously out of control. Owners of such dogs can face legal action, with penalties including fines, destruction orders for the dog, and potentially imprisonment.
XL Bullies in England & Wales
In 2023 there was a marked increased in attacks (including some fatal) from XL Bully Dogs and on 31/10/2023 they UK Government created an official definition of what the breed is defined as [source]. The definition of an XL Bully Dog does not mention specific breeds, but rather certain physical attributes like height, head, teeth but not weight. From December 31, 2023, any activities involving the breeding, selling, advertising, rehoming, abandoning, or uncontrolled roaming of XL Bully dogs will be prohibited. After this date, American Bully XL dogs must be securely leashed and muzzled any time they are in public spaces. Subsequently, as of February 1, 2024, possessing an American Bully XL dog that is not listed on the Index of Exempted Dogs will become an illegal act. Details on how to register on the Index of Exempted Dogs is yet to be published.