For the most up most up-to-date rules and regulations we always recommend you check the DAFM (Department of Agriculture, Fisheries & Marine) website. Information on importing dogs can be seen at:
Pet Travel – This covers when you are brining a pet into Ireland for short stay, or when an owner is rehoming their dog to Ireland.
Commercial movement of pets – This is for businesses who import dogs with the intent of commercial resale.
Note: A different set of rules apply if you are importing the dog directly yourself, or if you are travelling and bringing a dog back from another country, when in doubt consult with your vet.
These rules cover dogs born outside of Ireland, or resided outside of Ireland and that are now being imported into Ireland. Laws also apply to Irish dogs returning from a holiday abroad if you chose to bring your pet with you.
Here is a quick summary of the rules:
As with all dogs, to sell a dog in Ireland it has to be registered on one of the 4 Irish dog databases.
Dogs have to have a EU pet passport or EU Health Certificate. This should be presented to you when you view the dog.
All imported dogs are required to be vaccinated for rabies. Pets have to be at least 12 weeks old when they are given this. After the dog has been vaccinated against rabies, owners have to wait a minimum 3 weeks before they can bring those dogs into Ireland. If the datasheet of the vaccination used says that immunity is not present until day 30 after vaccination, then the dog must wait 30 days before travel. This rabies cert needs to be valid for 1 or 3 years.

For older dogs, they need to show a consistent history of rabies vaccinations, and the 3 weeks rule may not apply.

All dogs must be treated for tapeworm (Echinococcus multilocularis) 1-5 days before they travel to Ireland.
All treatments should be recorded in the Pet Passport or EU Health Certificate. It should have the details of when the the treatments were administered, by what vet and details of the batch of drugs.
What's in these health documents
An example of an EU Health Certificate can be seen here. EU pet passports are only available if the dog is originating in an EU country.
An EU Pet Passport contains the following information:
Name, Address, Passport Number and Phone number of the owner
Description of the dog (name, species, breed, date of birth, colour, etc.)
Microchip details
Vets details
Rabies vaccination certificate & rabies antibodies results
A photograph (optional)
Echinococcus treatment records
Parasite treament records
Additional vaccinations details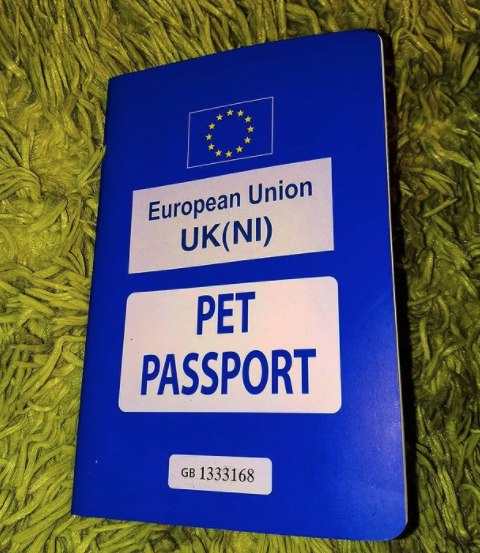 Importing dogs without rabies vaccination
There is an EU rule, Intra-Union Trade that has some exception cases, around rabies vaccinations. This is not supported in Ireland. This rule states:
Regarding the vaccination against rabies:

EU countries may authorise the trade in young dogs, cats and ferrets which are less than 12 weeks old and have not received an anti-rabies vaccination or are between 12 and 16 weeks old and have received an anti-rabies vaccination, but 21 days have not elapsed since the completion of the vaccination protocol for the primary vaccination against rabies carried out in accordance with the validity requirements set out in Annex III to Regulation (EU) No 576/2013.

In that case, the animals must be accompanied by either:

a declaration of the owner (see model set out in Part 1 of Annex I to Regulation (EU) No 577/2013) attached to the health certificate stating that from birth until the time of dispatch, the animals have had no contact with wild animals of species susceptible to rabies, or

Europa.eu
The EU legislation says 'EU countries may authorise' which means it is up to the individual country to decide whether to authorise this. You can a see the list here of countries that allow for this, and Ireland is not one of them.
This means that it is not possible to have a dog in Ireland that was born outside Ireland which is imported into Ireland before it is at least 15 weeks old. Dogs have to be at least 12 weeks old before they get their rabies vaccination, and then wait a remaining 3 weeks minimum (21 days) before that vaccine is deemed effective.
Holidaying in Ireland with your dog
If you are coming to Ireland for less than 21 days you don't need to register your dog in Ireland, but you will need to have all the necessary vaccines and Pet Passports to enter.
Ireland and rabies
Ireland is proud of its rabies free status, and there hasn't been a case in Ireland since 1902. Dogs as well as foxes, raccoons, bats and skunks can all act as reservoirs for rabies. There are a number of strict measures to keep Ireland rabies free. Contracting rabies requires a deep bite from a rabid animal, you can read more about this from the HSE Factsheet on Rabies.
When to get an imported dog registered
Per Section 4, paragraph 3 of the 2015 Microchipping of Dogs Regulation (MODR) (link), all imported dogs should be registered within 21 days. All dogs need to be registered on one of the 4 Irish microchip databases. It is also not allowed to advertise a dog for sale if it's not registered on one of these databases.
(3) A person who imports a dog shall have the dog microchipped and registered for the purposes of these Regulations within 21 days of importing the dog.

MODR 2015
Imported dogs on Dogs.ie
It's often the case that dogs from other European countries are posted for sale. Here are a few notes on imported dogs on Dogs.ie:
All imported dogs need to be over 15 weeks of age, due to

dogs must be 12 weeks or older to receive their rabies shot
an additional 3 weeks is needed for this vaccine to be effective

All dogs need to be physically in Ireland before they can be advertised on dogs.ie.
All dogs need to be microchipped and registered in an approved Irish microchip registry.
All imported dogs need their relevant EU Pet Passport or EU Health Certificate
The country of origin is displayed in the ad details section.