When posting an ad you accept the following terms and conditions. The complete terms and conditions are found at dogs.ie/terms. We have broken down the terms here also to make them a bit easier to read here also.
All information you post about your dog / litter is accurate to the best of your knowledge.
You will only post dogs that are in your possession and you are legally allowed to sell.
All dogs need to be posted with their microchip number. These microchips need to be listed on europetnet.com and registered with one of authorised Irish registries, Animark, Fido, The Irish Coursing Club or the Irish Kennel Club.
Breeders & Registered Sellers
From 1st February 2020: If you sell more than 6 dogs a year you need to be registered with the Department of Agriculture, Food and the Marine and post this in all your ads.
If you are a Dog Breeding Establishment, you will also need to show evidence of your license. For adding transparency we list the number of breeding bitches your license if valid for. There are three types of sellers of dogs on dogs.ie
Terms and conditions for posting an ad
Here are our current terms that you are required to accept before posting an ad.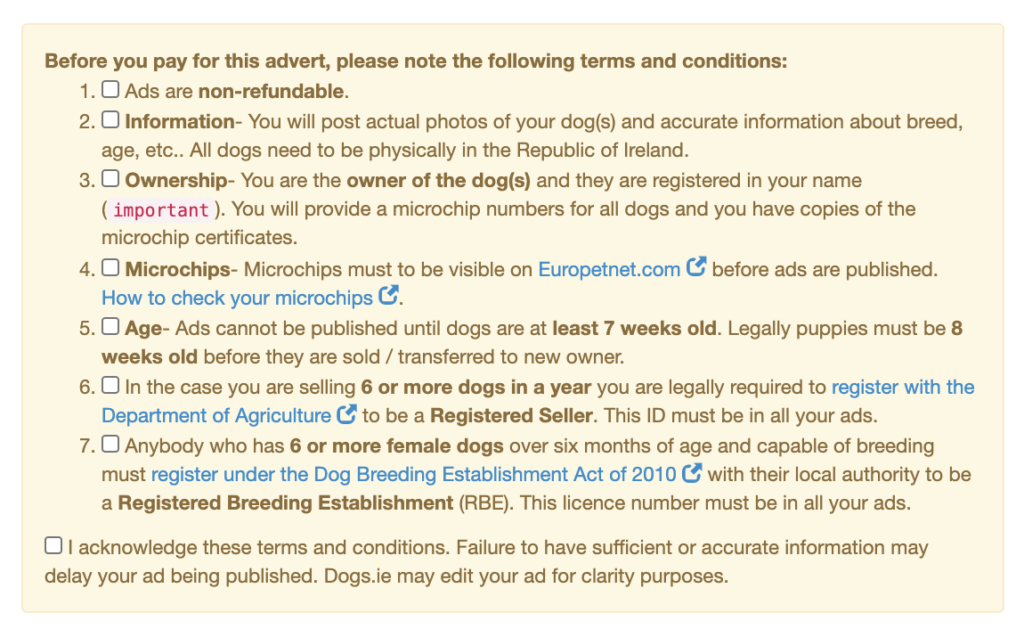 Before you pay for this advert, please note the following terms and conditions:
* Ads are non-refundable.
* Information– You will post actual photos of your dog(s) and accurate information about breed, age, etc.. All dogs need to be physically in the Republic of Ireland.
* Ownership– You are the owner of the dog(s) and they are registered in your name (important). You will provide a microchip numbers for all dogs and you have copies of the microchip certificates.
* Microchips– Microchips must to be visible on Europetnet.com before ads are published. How to check your microchips.
* Age– Ads cannot be published until dogs are at least 7 weeks old. Legally puppies must be 8 weeks old before they are sold / transferred to new owner.
* In the case you are selling 6 or more dogs in a year you are legally required to register with the Department of Agriculture to be a Registered Seller. This ID must be in all your ads.
* Anybody who has 6 or more female dogs over six months of age and capable of breeding must register under the Dog Breeding Establishment Act of 2010 with their local authority to be a Registered Breeding Establishment (RBE). This licence number must be in all your ads.
I acknowledge these terms and conditions. Failure to have sufficient or accurate information may delay your ad being published. Dogs.ie may edit your ad for clarity purposes.

April 2021
Laws
There are a number of relevant laws that you as a seller of a dog should be aware of. The main one are.