We employ a number of security measures to make sure that your experience on dogs.ie is as safe as possible. Some of these measures include:
We verify all users by email and by phone. Users can only have one account per email address and phone number.

We are currently only able to verify Irish phone numbers (+353) and UK phone numbers (+44).

Users are asked about the breeder status (Private individual, Registered Seller of Pets, Dog Breeding Establishment). Users are also instructed to register with the relevant authorities when they hit the advertising limits.

Registered Seller of Pets – when it's clear that a breeder is over the limit of selling or supplying 6 dogs in a year
Dog Breeding Establishment – when it's clear that they have 6 or more breeding bitches on their property.

We monitor the user's location via their IP address. Users that are not in Ireland are actively monitored or blocked.
Credit card transactions undergo certain checks to be accepted. More about payments can be read here.

Previous fraud check – checking the card against suspicious activity lists.
Bank issuing location – checking the country of origin of the card.
Prepaid credit cards – Due to the higher fraud rate, pre-paid credit cards (like One4All) are not allowed for paying for ads.
Virtual credit cards – Payments via companies such as Revolut.com & Privacy.com are not accepted.
Payments via PayPal are no longer offered or supported supported.

Users cannot post ads from VPNs (Virtual Private Networks). VPNs are often used to hide users actual location / identity.
All user data is transmitted over HTTPS, including login, user registration, messaging, etc. to keep information secure and encrypted end-to-end. Most modern browsers display a lock symbol 🔒 to show it's secure.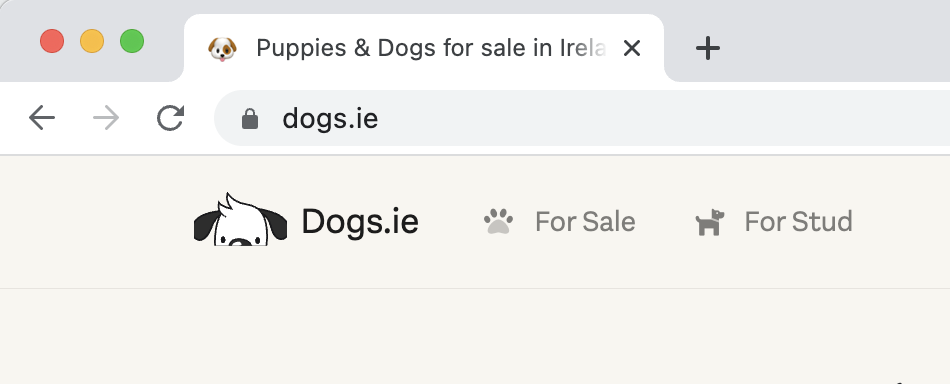 Types of sellers
There are three different types of sellers on dogs.ie
Private seller – typically someone who sells puppies irregularly and not more than 6 dogs in a year. This is generally someone selling a small litter, or individual dogs that they can no longer care for. If they sell more 6 or more they are required to be a Registered Seller.
Registered sellers – typically this is someone who breeds one or more litters a year, and sells or supplies 6 or more dogs in a calendar year. These users need to register with the Department of Agriculture and get a Registered Seller ID. This Registered Sellers ID is required by law to be included in all ads. Learn more about becoming a Registered Seller of Pets. If they have 6 or more bitches of breeding age they are required to be a Registered Breeding Establishment.
Dog Breeding Establishments (DBE) – For breeders with 6 or more females of breeding age (over 6 months), a registration with the local authority (city or county council) is required. This registration comes with an inspection of the premises and other stipulations about the conditions the dogs must be kept in, number of staff per dog, etc.. These DBEs are required to include this number in all of their ads by law. For transparency we also include the maximum number of female dogs these DBEs can house at one time. Learn more about becoming a Dog Breeding Establishment
Dogs.ie Statistics
We believe in trust and transparency and we want to share as many metrics as we can. You can see the current number of dogs for sale, for sale ads, stud dogs, number of website members as well as the number of Registered Sellers of Pets and Dog Breeding Establishments that are registered with dogs.ie on www.dogs.ie/open.