The European All Breed Kennel Club, EABKC, www.eabkc.ie, lists themselves as being an inclusive pedigree registry of "pedigree dogs, regardless of breed, colour or markings". They are based in Dublin and have been registering dogs since approximately 2021. Some pedigree dogs may not qualify due to colouring on other pedigree databases, and the EABKC is providing a solution to address this, they are not limited to just the FCI approved colourings. The information in this article is of a is similar nature to DWKC registrations.

Registering just with EABKC
Is it enough to just register your dog with EABKC? The quick answer is No. You will also need to register your dog with one of the 4 approved databases also. By law, all dogs over 12 weeks of age, and all dogs being listed for sale in an ad need to be registered on one of the follow databases
Should your dog be lost and recovered these are the only 4 databases that the Gardai, dog wardens, ISPCA, rescues and charities will check to reunite you and your dog.
How much does it cost to register with EABKC?
Currently it costs €25 per puppy to be registered with them.
EABKC Certified Pedigree
A typical EABKC certificate looks like this.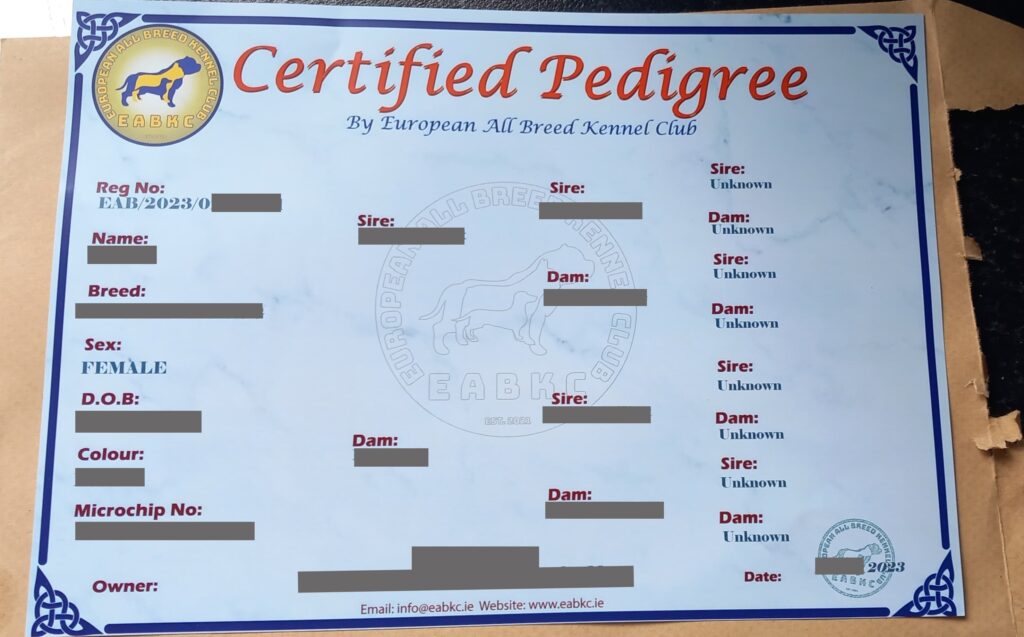 It should contain the following information:
Registration No – EAB/YEAR/MONTH/ID
Name of dog
Breed
Sex
Date of birth
Colour
Microchip number
3 generations of breeding history
Name and address of the owner
date of issuance
EBKC vs. EABKC
Another organisation is the EBKC https://ebkc.org/ European Bully Kennel Club, has been 2008 it has been maintaining it's own registry of bull breeds, which include the following
| | |
| --- | --- |
| American Bully | Dogo Argentino |
| American Pit Bull Terrier | Dogue De Bordeaux |
| American Staffordshire Terrier | French Bulldog |
| American Bulldog | Great Dane |
| Boxer | Olde English Bulldogge |
| Boerbol | Presa Canario |
| Boston Terrier | Mastiff |
| Bulldog | Miniature Bull Terrier |
| Bull Terrier | Neapolitan Mastiff |
| Bullmastiff | Shorty Bull |
| Cane Corso | Staffordshire Bull Terrier |
| Dobermann | |
EBKC Breed list