Advertising your dog for sale, especially if it's your first time, can be a daunting one. We have a number of features to help you sell your dog, such as helping you write your ad description. We believe we can do more to help you post that perfect ad, to find a great home for your puppies. A great ad will explain about the puppies' background and lineage & pedigree, but sometimes that's not enough, perhaps the price is set out of the range for someone or it's suspiciously low.
One of the remaining hurdles in advertising your ad for sale, is picking a price that will appeal to buyers. Breeders put a lot of time & energy into preparing their puppies for their new forever homes. There is also the expense of microchipping, vaccinations and other vet checkups, etc. Putting a price on this isn't so easy.
Picking a price
These puppies are indeed priceless, or sometimes you want to advertise the dog for free, as it's more about finding a good home for your dog. It's tough to pick a fair price to cover your time and costs while also making sure that the dog is valued correctly. It's possible to compare your litter with other litters by searching for similar ads, but again, there may be specific reasons that the prices are higher (pedigree, colouring, sex, training, comes with crate, etc.) or lower (urgent rehoming, needs special care, age. etc.). Market effects such as supply / demand also effects prices. Because of this we've decided to share some sales historical data with advertisers.
Pricing of dogs
Dogs.ie now shares a historical price per breed. We take the ads from the previous month to give you a gauge of what's happening in the market. Based on the selected breed(s) we will show you a Euro price of what previous ads in the past 30 days were set at.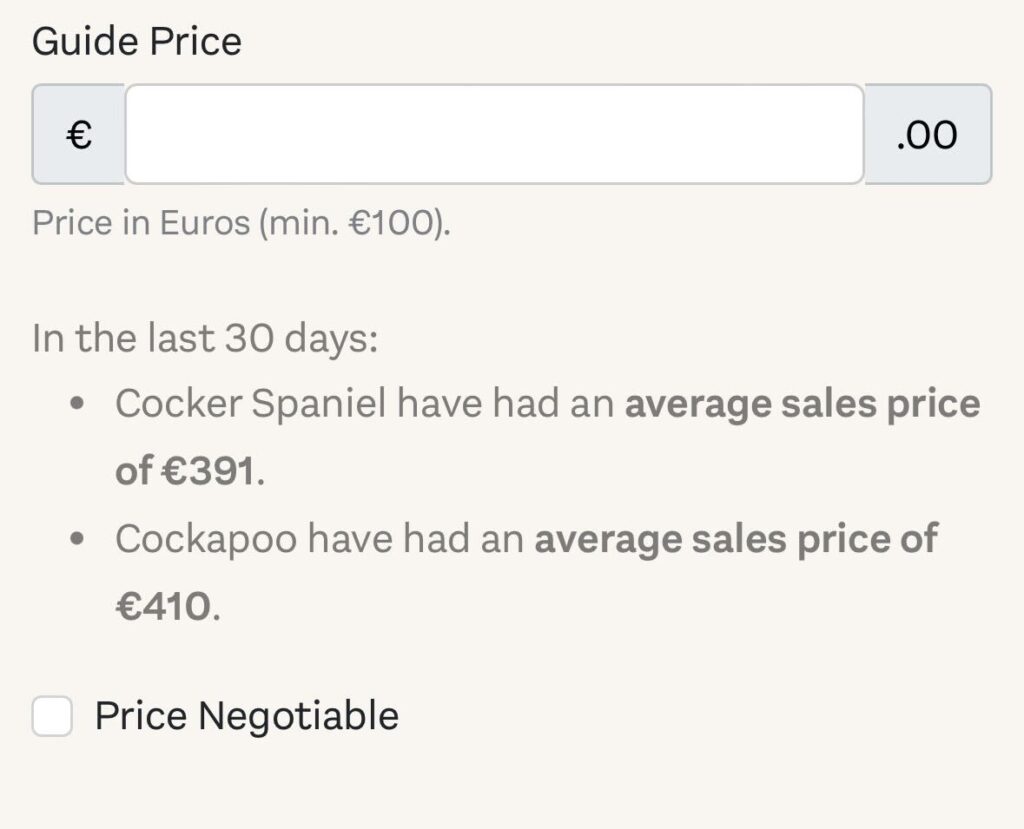 Pricing as a quality indicator
For the most cases price is a poor indicator of quality of a puppy (breeding, early socialisation, etc.) . Just as housing is more expensive in different parts of the country, this may be one reason you will see a range of prices for similar breeds. In some ads the price may be fixed or negotiable.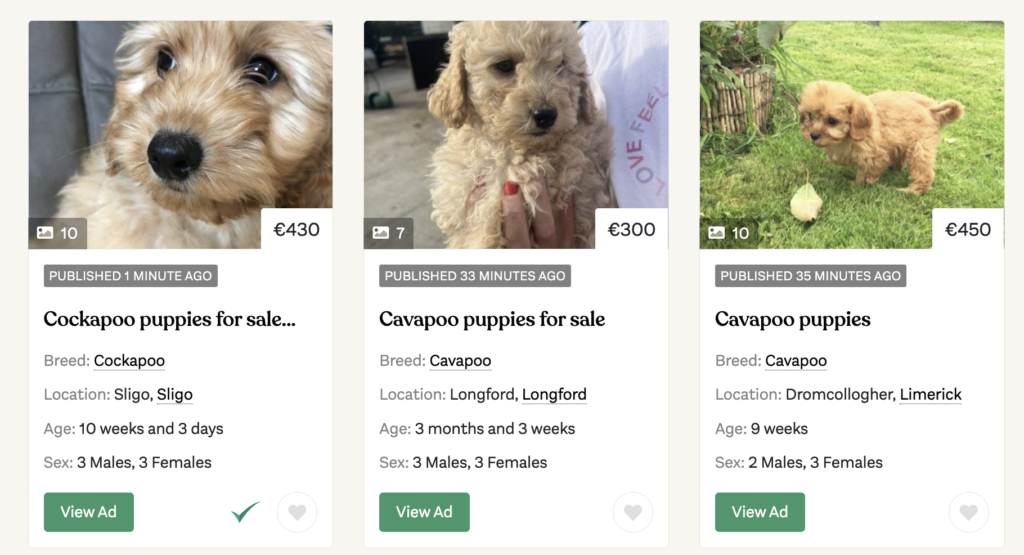 Considerations in pricing
Here are some further points to think about when setting that price for your ad:
Consider the Breed: Different dog breeds command different prices. Purebred dogs, especially those that are from a line of champions, are often priced much higher than mixed-breed ones. Exotic or rare breeds can also command higher prices.
Factor in Your Expenses: As a breeder, you have likely invested quite a bit of time, effort, and money into breeding, raising and maintaining the health, wellbeing, training, and registration of your dogs. Your pricing should cover these expenses and compensate for your time and effort. This includes the cost of vaccinations, feeding, veterinary checks, grooming, and other potential costs like emergency medical expenses.
Market Demand: Just like in any business, the principle of supply and demand also applies to selling dogs. If there is a high demand for the type of dog you're selling but the supply is low, you can price your dogs higher. Conversely, if there is a low demand but high supply of the dogs you're selling, you may need to price them lower to make a sale. Following the market trends for specific dog breeds will help you set a realistic price.
Remember the initial purchase price of your dog is just the first bill, the cost of owning a dog has many other factors to it too (food, vets, vaccinations, toys, training, etc.)