Writing great ads for dogs for sale has never been easier! With a few simple clicks your ad can start to take form. To begin you will need to select 6 fields in your ad, click "Generate Description" and our writing assistant will get to work. We named the writing assistant Spot, who is part dog 🐶, part robot 🤖, part expert copywriter. Spot will create the starting text for your ad in just a few seconds. From there you can tweak your ad text further, get more suggestions and before you know it, your ad is ready to be saved.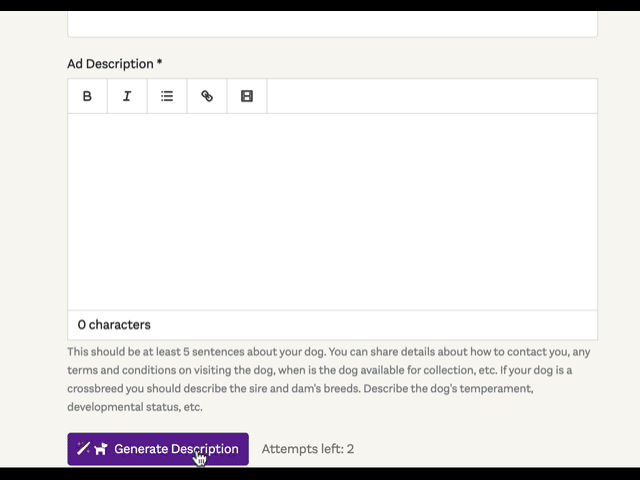 Writing Input
These are input fields that you will need to fill out to get started.
Dog Breed(s)
Temperament
Date of Birth
Wormed / Vaccinated
Location (we auto-populate this from your profile)
Dog microchip details with sex & colour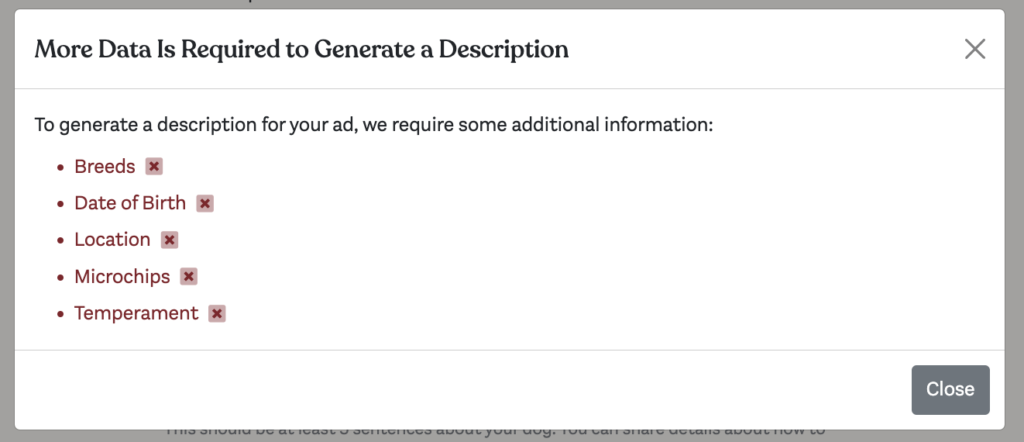 Spot will take this information and write one to two helpful paragraphs to help you start out your ad. You can edit it / change it / ask it to check your grammar and to see if you've left out any important information.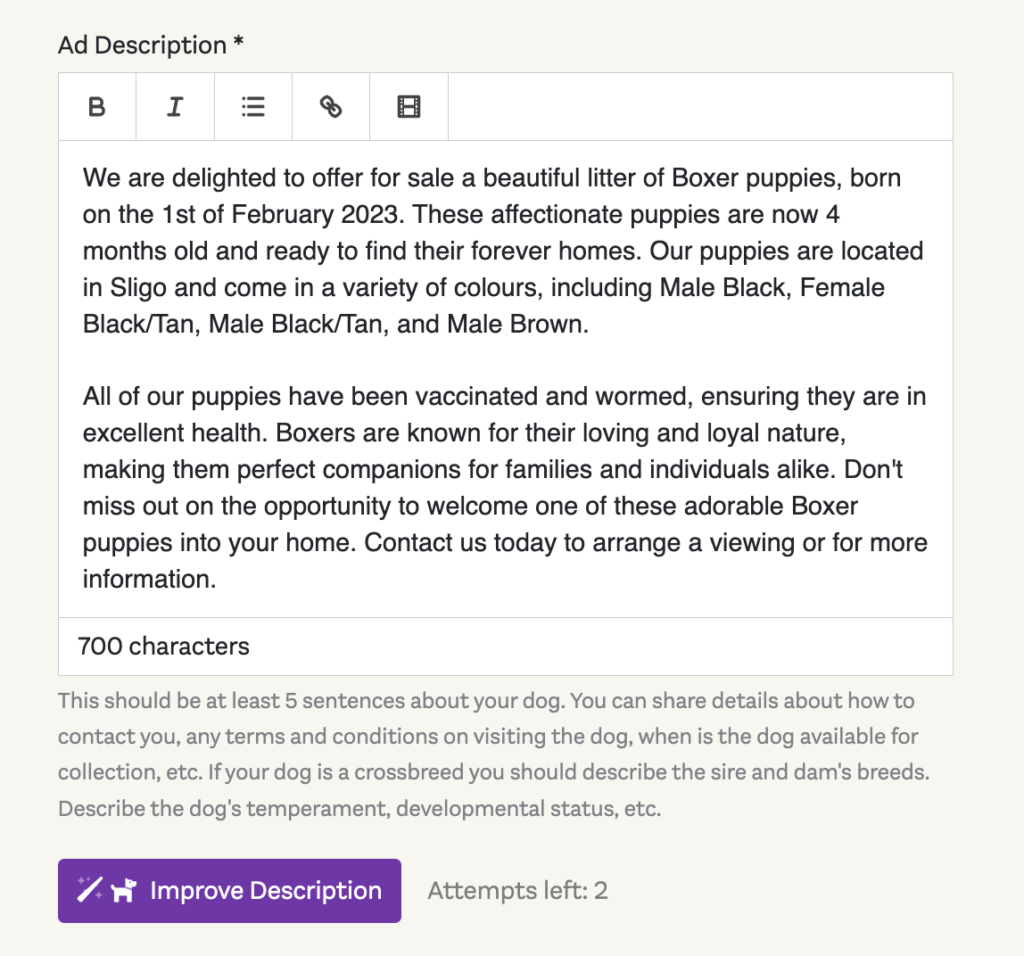 If you already have a text in the box you can ask Spot to come up with some suggestions to improve the text even further.
Mobile Usability
Over 80% visitors place ads from their phones, and writing long texts can be an arduous task and fraught with the possibility of spelling mistakes The writing assistant can give you a few starting ideas about what to put in your ad, so you can get back to what's important, minding your puppies!
Better Ad Descriptions
There are many reasons better ad descriptions are preferred, but in the end it comes down to 1 thing, helping you, the breeder, share important information in a better way. Here are a things that should happen with Spot helping out with your description:
You will give buyers more confidence about the dog for sale, including more information in the description.
Your ad will start to rank higher on Search Engines like Google, Bing, etc. which means more views.
Improves readability and English level.
Saves you time creating your ad.
Example Ad with Spot


Limitations
Spot's suggestions are only as good as the inputs you give him, so accuracy is important. Do check the text that he produces to make sure it's all still accurate and it's information you are happy to share. Amended the description further if there are things he's left out.
About Spot's Technology
Spot's technology is based on what's called generative AI with a LLM (Large Language Model) that means that it can generate outputs based on inputs and its model's learnings. So if you share some key details about your dog, we can get to work to figure out some ideas on how to start writing it. Spot uses OpenAI.com's ChatGPT4 model to return ad descriptions.