Due to the higher level of fraud with virtual credit cards we are no longer able to accept payments from these types credit card issuers. Virtual credit card companies, such as Revolut.com and Privacy.com, allow you to create multiple credit card numbers from a single account. These credit card numbers can be created for a one time use, which you can quickly dispose of afterwards. This is a tactic is actively employed by scammers to avoid detection.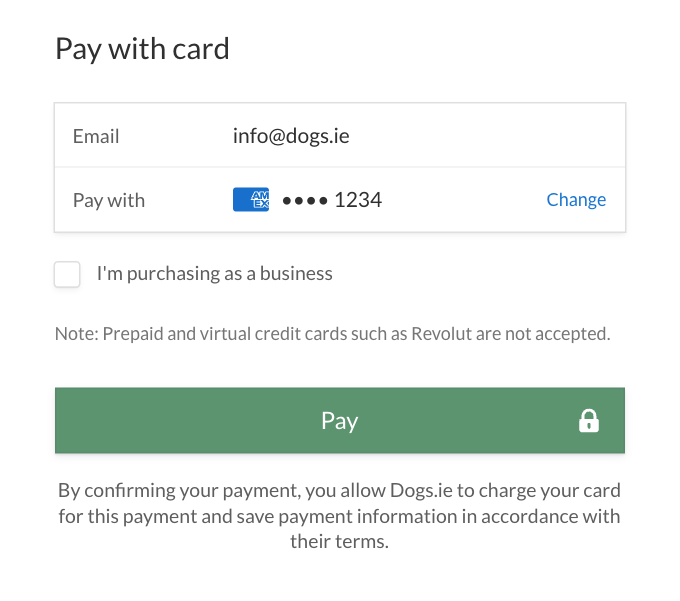 These virtual cards are handy for being able to turn on and off credit card numbers, and to manage spending with vendors and to cancel cards in the event of a data breech.
List of blocked prepaid card providers
We are not able to accept payments from prepaid credit cards such as
these prepaid have a higher level of fraud associated with them. A prepaid credit card, also known as a prepaid debit card, is a payment card that allows you to make purchases and transactions using funds that have been loaded onto the card in advance. Unlike a traditional credit cards, a prepaid credit card is not linked to a bank account, but it can be reloaded.
List of blocked virtual card providers
Here is the list of virtual cards that are not accepted by dogs.ie. If you use one of these cards your transaction unlikely to go through.
A virtual credit card, also known as a virtual card or a virtual account number, is a digital payment solution that allows you to make online or remote transactions without using your physical credit card. It provides a temporary card number, expiration date, and security code that can be used for a single transaction or a limited time. Payments made with these types of virtual credit cards are currently not accepted in our systems.
Paying with PayPal
Since January 2023, we are no longer able to accept PayPal payments for ads on dogs.ie.
Types of credit cards to use on dogs.ie
You will need to use a credit or debit card attached to a bank account, such as one of the major banks in Ireland:
AIB – Allied Irish Banks, plc
Bank of Ireland – The Governor and Company of the Bank of Ireland
KBC – KBC Bank Ireland PLC
Ulster Bank – Ulster Bank Ireland Designated Activity Company
TSB Bank – permanent tsb plc
And other established banks.
We accept Visa / Mastercard debit and credit cards, as well as American Express (Amex), Discover cards. Generally banks in Ireland only issue Visa & Mastercard cards.
Apple Pay & Google Pay
Apple Pay & Google Pay are support by different browsers and by our payment gateway where it's available. Stripe, our payment gateway all supports saved cards for. transactions. Your credit card information, such as your 16 digit credit card number is never saved on our systems, only the last 4 digits are.