A frequent question we get is around how can someone advertise an up-and-coming litter. It's understandable that you might want to find suitable buyers before your puppies are even born. Having puppies that are just whelped is enough stress and having to find homes for them can be an added distraction, so you might just want to get it out of the way as soon as possible. Selling, or at least advertising the dogs before they are born gives you, the breeder, more time to vet potential buyers.
Law on advertising dogs
By law you cannot advertise a puppy for sale (both online and offline) if they are not microchipped and registered. These microchips need to be registered in one of the four approved Irish microchip databases (Fido, Animark, IKC, ICC) before they can legally be sold.
This means that you cannot advertise a litter announcement, as the puppies can't be microchipped & registered in advance of their birth. It's not possible (or allowed) to register a microchip before its inserted into a puppy.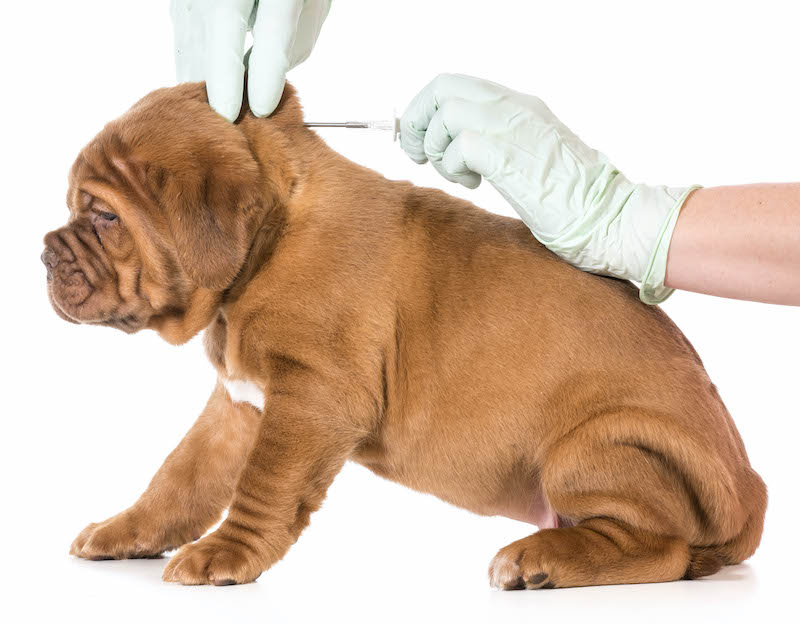 When to microchip a litter?
It's recommenced that a puppy is at least 6 weeks of age when they are microchipped. Generally microchipping is done along with some other vaccinations to keep the number of trips to the vet (and the stress and costs) to a minimum. Bigger puppies could be microchipped earlier, and smaller puppies later, but this decision would be down to your vet.
Once the dog is microchipped, the important 2nd part is to make sure that the registration is completed by submitted the registration forms to the respective registries. Generally your vet will do this for you (IKC registrations are completed by the breeder and submitted to the IKC). If they have the facility to file your paperwork electronically a microchip can be registered in a number of hours. If a vet is mailing the forms in this can take 2-7 days to be completed.
When to advertise a litter?
Currently we publish ads once a dog is 7 weeks or older. If a dog will be 7 weeks on a Saturday or Sunday it is possible to publish the ad on the Friday before they are 7 weeks. This means that a dog could be either 6 weeks & 5 days (47 days) or 6 weeks & 6 days (48 days) old when we will publish the ad.
When can I sell a litter?
There is still the rule that a puppy needs to be 8 weeks of age before it can be taken away from its mother and transferred to its new owner. You cannot sell a dog and transfer ownership to a new owner until it's the 8 weeks. At this age the puppy should have moved off its mothers milk and on to some puppy food, they no longer need their mother for nourishment.
There are a few different camps about when to separate puppies from their mothers. Some buyers want to train their dogs straight away, especially working dogs, and they want to start them off at the 8 weeks. Other sellers & buyers opt to give the puppies a bit more time with their litter mates and mother, to help socalise them a bit better, and to allow them a few more weeks to get even stronger and to get more of their planned vaccines. In this case we see a 10-12 week window working well.
Timeline – First weeks of a puppy's life
Your vet will be able to advise you around a schedule for vaccinations. A typical timeline looks like this:
Week 0 – Puppy born 🐶 ! Lots of noise and accidents around the house. First vet checks for mother and puppy.
Week 2 – 4 – Recommended times for initial worming treatments. 🪱
Week 6 – Further worming course, injections 🩺 💉🪱 💊 (Distemper, Parvovirus & Bordetella Bronchiseptica (Kennel cough) along with getting a dog microchipped.
Week 6 – Microchip & register as the first owner on one of the four registries. Your vet will assist here.
Week 7 – Registration of the microchip processed. Microchip can be seen on EuroPetNet.com. Advert on dogs.ie can be created and published.
Week 8+* – Preparation for a puppy's new home and transfer to a new owner. Filling out your puppy contract, transferring the ownership of the puppy to the new owner. 👨‍👩‍👧‍👧
Week 8+ – regular checks with your vet for any other shots and treatments as needed. 💉💊