The following is a guide on how you can post your advert. Stud ads run on a monthly basis and cost just €14.99 per month or €150 per year. Each month your ad is renewed it will go back up to the top of the listings. Breeding dogs is not something to be taken likely, and we recommend you fully research and discuss with your vet any plans you have for studding your dog.
We recommend that you have your dog health screened for typical breed illness and hereditary disease disposition and genetic characteristics, to insure that any offspring produced as given the best chance of being healthy (for example PRA Clear). Your vet can advise you about how best to test / screen for these diseases & illnesses, some of them are done with a simple blood draw or an X-Ray.
If you are planning on breeding and having the puppies registered with the Kennel Club or Irish Kennel Club, please check their rules around breeding & registration requirements. Both have limits around number of litters that can be produced, and age limits for example.
Step 1 – Login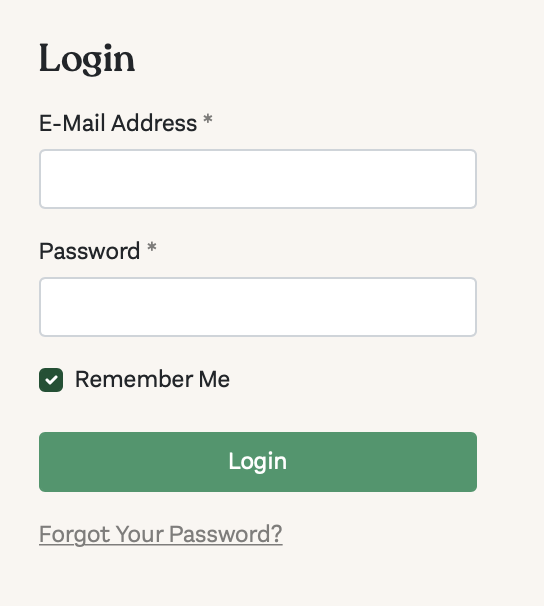 Visit the log in page and enter your email address & password. https://dogs.ie/login

Step 2 – My Ads
From the Place an ads section in the menu select 'New for stud ad' https://dogs.ie/my-ads/for-stud/create

Step 3 – Fill out details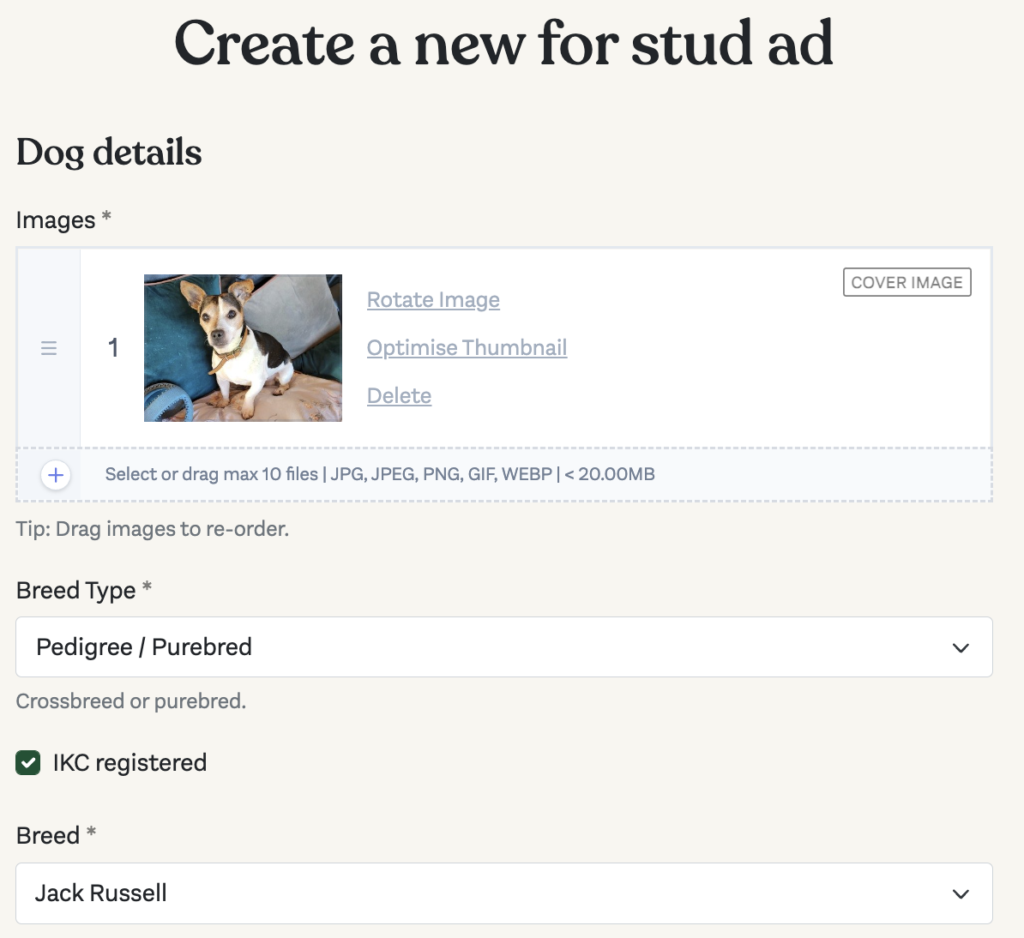 Fill out your advert with as much details as possible, if it has any previous experience, health checks, etc. Also include clear photos of your dog.
Step 4 – Terms & Payment

Accept the terms and conditions and click "Pay to Publish". If you are not ready, you can also save a Draft.

Depending on the contents of your advert, it may be held for moderation to check that it meets our standards. Generally ads are checked and approved within a few hours.
Extending your advert
Stud ads are billed month to month. Each month your ad will renew automatically and a charge will go on the card we have on file for you. If you are still happy with the ad being on the site and advertising your stud's services for the upcoming month, there is no action to be done on your part. When the ad is renewed it will once again go back to the top of the stud ad listings.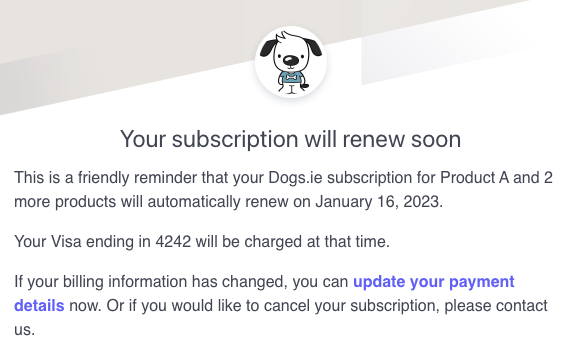 Cancelling a stud ad
You can cancel the subscription at any time, and the ad will be live until the end of the current billing cycle. If you visit your stud ads https://dogs.ie/my-ads/for-stud you will see when it will next renew and a link to cancel your subscription for the stud ad.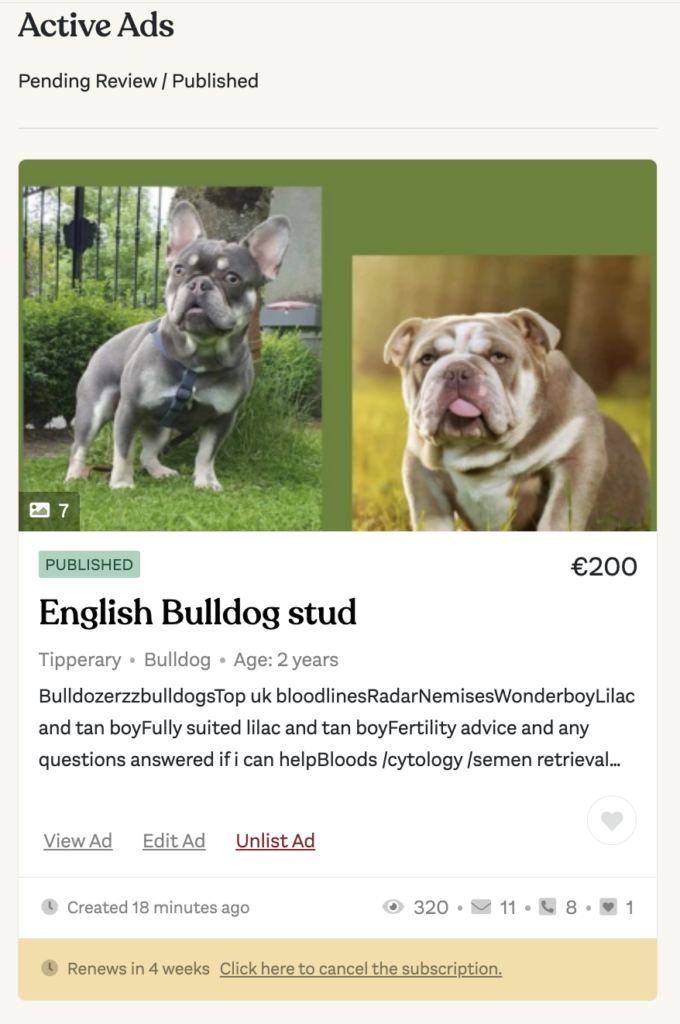 Cancel through the billing portal
To cancel your ad please visit the Billing Portal and select Cancel Plan. You can also update & change the credit card that the subscription is billed here also.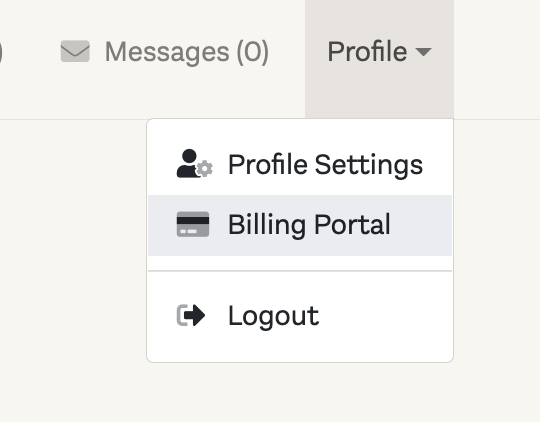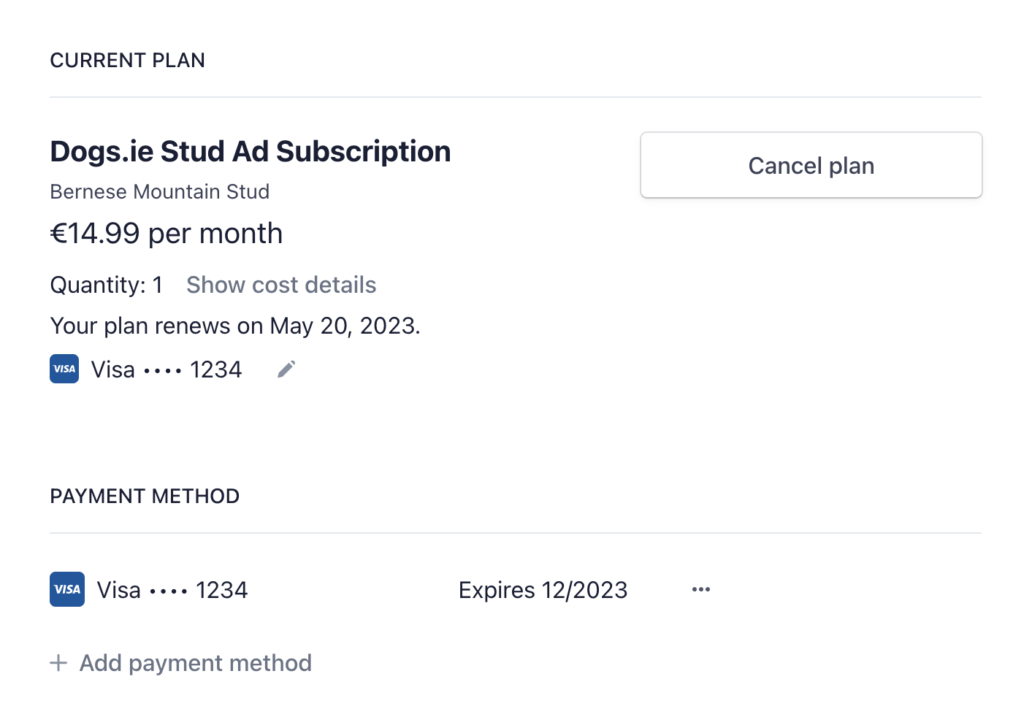 You can restart your ad again at any time, by going through the subscription steps above. This is handy for example if you want to give your dog a break, you are travelling for holidays or any other reasons.
Resubscribe to a canceled subscription
When you cancel your ad, you will be able to still edit it and resubscribe at any time.