Here is a quick overview of what happens with the microchipping process. You'll learn the steps to processing the microchip and how long it takes to get your puppy's microchip listed. Each of the databases have slight differences to their processes, but the key part here is that all dogs have to be microchipped & registered in a database before they can be advertised or sold.
Since March 31st 2016, all dogs over the age of 12 weeks need to be microchipped & registered. If you are in possession of a dog that's not microchipped you are breaking the law and can face fines.
Dogs can be microchipped earlier than 12 weeks and it's recommended you do it along with when they are getting some of their vaccines.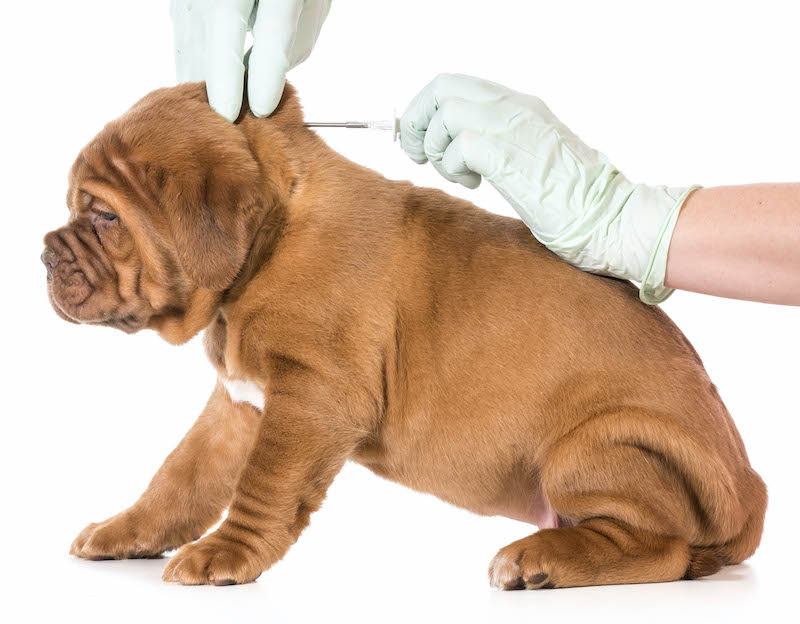 Steps to processing microchips
Your vet implants your puppy with the microchip.
The vet fills out the form with the microchip information, and checks your ID (passport, drivers licence) & proof of address.
The vet submits the paperwork to one of the four approved microchip database registries* (Animark, Fido, IKC, Irish Coursing Club) either:

by posting the physical form, which can add 2-4 days to reach the registry
by filling it in online with their vet login (only for Fido & Animark)

You should also retain a copy of documentation for the microchip.
The microchip database registry receives the information, does their crosschecks, and enter these details into their systems. They may contact you in the case of missing information.
The microchip database registries synchronises the information to Europetnet.com every day (Fido shares information immediately).
You will receive a microchip registration certificate either by post (Fido, IKC, ICC) or by email (Animark)
* Note: Some registries accept electronic filing / submission of the microchip information. This can greatly increase the speed of getting your dog registered in one of the databases from days to just hours. You should ask your vet if they are equipped to do this.
Importing a dog to Ireland
If you are bringing a dog into Ireland it will also need to be microchipped and you will need to transfer the registration to one of the four approved databases. This transfer is effective a new registration. This needs to be completed within 3 weeks of arriving in Ireland. You still cannot sell a dog in Ireland without it being microchipped and registered with an Irish database. There are other important rules about importing dogs into Ireland that you should check out.
How long does it take for microchips to show on Europetnet?
We are not able to list dogs for sale until we can verify the microchip numbers. We verify these microchips on EuroPetNet, all 4 approved databases are required by "Microchipping Of Dogs Regulations" (MODR) 2015 to submit their information to EuroPetNet (Schedule 1, 1.1).
1.1 A dog identification database operator must be a full member of europetnet.

MODR 2015
Here are some typical times we see from when the the microchip certificates are completed:
Animark / Fido – Electronic filing of new registrations : 1-2 hours
Animark / Fido – Paper filing of new registrations : 3-4 days
IKC – Paper filing of new registrations : 7-10 days
ICC – Paper filing of new registrations : UNKNOWN
Animark/Fido – Electronic transfers : 1-2 days.
The registry might take up to 1 further day to synchronise with EuroPetNet. The total process can take up to 10 days. Note that these businesses normally don't process new registrations at the weekend. These timelines also don't account for vets who may only mail out their registrations once a week. Our tip is to ask your vet if they have processed and submitted your forms!
We recommend that you plan accordingly and microchip your puppies up to 10-14 days before you want to advertise them on dogs.ie, your vet will let you know if the puppy is old enough and big enough to have their microchip inserted. You can learn more about how to check a dogs microchip status.
Irish law on microchipping
You can read, "MICROCHIPPING OF DOGS REGULATIONS (MODR) 2015 " / "S.I. No. 63 of 2015"
http://www.irishstatutebook.ie/eli/2015/si/63/made/en/pdf We also have some details about selling a dog before the microchip is registered and laws related to dog sales, that are worth reading. Informing yourself of your requirements as a seller is important, and not knowing the laws is not an excuse!